In an auction between friends.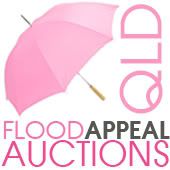 To help the victims of flooding in Australia.
Tina is donating 1 yard of green posies and 1/2 yard of the green/gray vines.  I am donating a fat quarter of each:  blue leaves, pink seeds, blue bouquet, and red leaves. These fabrics are very hard to find, and the money raised from this auction goes 100% to charity!
Just to be clear, upon payment, the winner will be receiving two packages.  One from me for the fat quarters on the left, and one from Tina for the two fabrics on the right.  The bidding will end on Monday 24th at 7am.
How this auction works:


Bidding will start at $50(USD).  You can place a bid by leaving a comment on this blog post with your bid amount and email address. Please make sure that your bid is higher than the previous bidder.
Your bid must be in whole dollar increments.
This auction is open to everyone, we will happily ship internationally.
The auction begins NOW and will END on Monday, January 24th at 7am, 2011 (Mountain time).
At the close of the auction, I will contact the winner (please make sure your bid comment includes your email address). ALL bidders must have an active PayPal account. The winner  will pay the winning amount directly into the Premier's Flood Relief Appeal and send me proof of payment via email.
READY, SET, GO!  And good luck!
Penny and Tina