(finished quilt size 50 X 63)
A month or so ago, I received a go! Baby cutter from Accuquilt.  I was really excited that they decided to send one to me since I had used and loved the regular Go! cutter to cut the fabric for this quilt. 
I'm going to take a little segway here, but it all fits in in the end, promise!  My weekend was filled with family visiting from Kansas from Thursday evening until late Monday morning.  We spent one day grilling and kayaking/tubing the river, most of another day at the Tour de fat, and another day in Estes Park. 
Back to now.  In the in-between times when we weren't going somewhere or doing something, I cut and sewed this quilt.  That's how easy it was with the Go! baby cutter. 
I have to admit, I wasn't particular if the fabric was ironed beforehand and I think that's why a few of the triangles came out slightly larger than some of the others as you can see here in the photo.
But, it all worked out in the end.  All in all, I am so very pleased with the Go! Baby.  It makes quick work out of cutting, which is one of my least favorite parts of the quilting process.  I'm just wondering, what is yours?
For you, Accuquilt is offering 22 quilt patterns to you for free.  Just click the link and sign up for their emails and they're yours.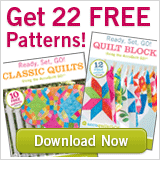 So if you'd like to make a "sunshine on my shoulders" quilt of your own, here's a basic how-to tutorial.
What you will need:
Go! Baby Cutter and 4 7/8" triangle die (or take tons more time and cut with a rotary cutter!) 
83 colored triangles cut with the die
83 white triangles cut with the die
28 tonal white triangles cut with the die
4 WOF X 4.5" strips of tonal white fabric
5 WOF X 3" plaid strips
What you will do:
Sew each of the 83 colored HST's to one of the 83 white HST's.
Arrange your squares on point how you want them in the quilt (tip:  I liked it better with the points of the colored triangles pointing up).
Sew your diagonal strips of squares together, adding one of the 28 tonal white triangles to each end of each strip.
Sew your strips together, lining up the seams.
Trim your corners square.
Sew a border of the 4.5" tonal white strips around the quilt.
Sew a border of the 3" plaid strips around the quilt.
Lastly, keep an eye out here for a chance to win a Go! Baby of your very own soon!  Yay!
~Penny